Do you ever have those weeks where you think you have everything planned out and organized and then all of a sudden you hit a snag...and another...and another? Then all of a sudden you're a frantic ball of nerves and frustration? That's what I'm dealing with right now. Plus, on top of all of that, I haven't been running at 100%--been nauseous and just generally cruddy feeling. Hoping it's just the stress and not some looming sickness. :\
Aside from my personal stormy cloud, I do have some positive things to remind you all of!
Thank you to everyone that has
submitted
your blog so far! If you haven't, you still have until August 28th you send in your information. [just click on the image] I'm really excited--it's going to be awesome. :D
You have until tomorrow, August 17th, to
enter to win
this great giveaway sponsored by Jezzy Belle's!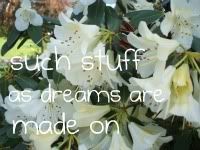 I also have a
guest post
over at Such Stuff As Dreams Are Made On! Thanks Rosie for having me :D